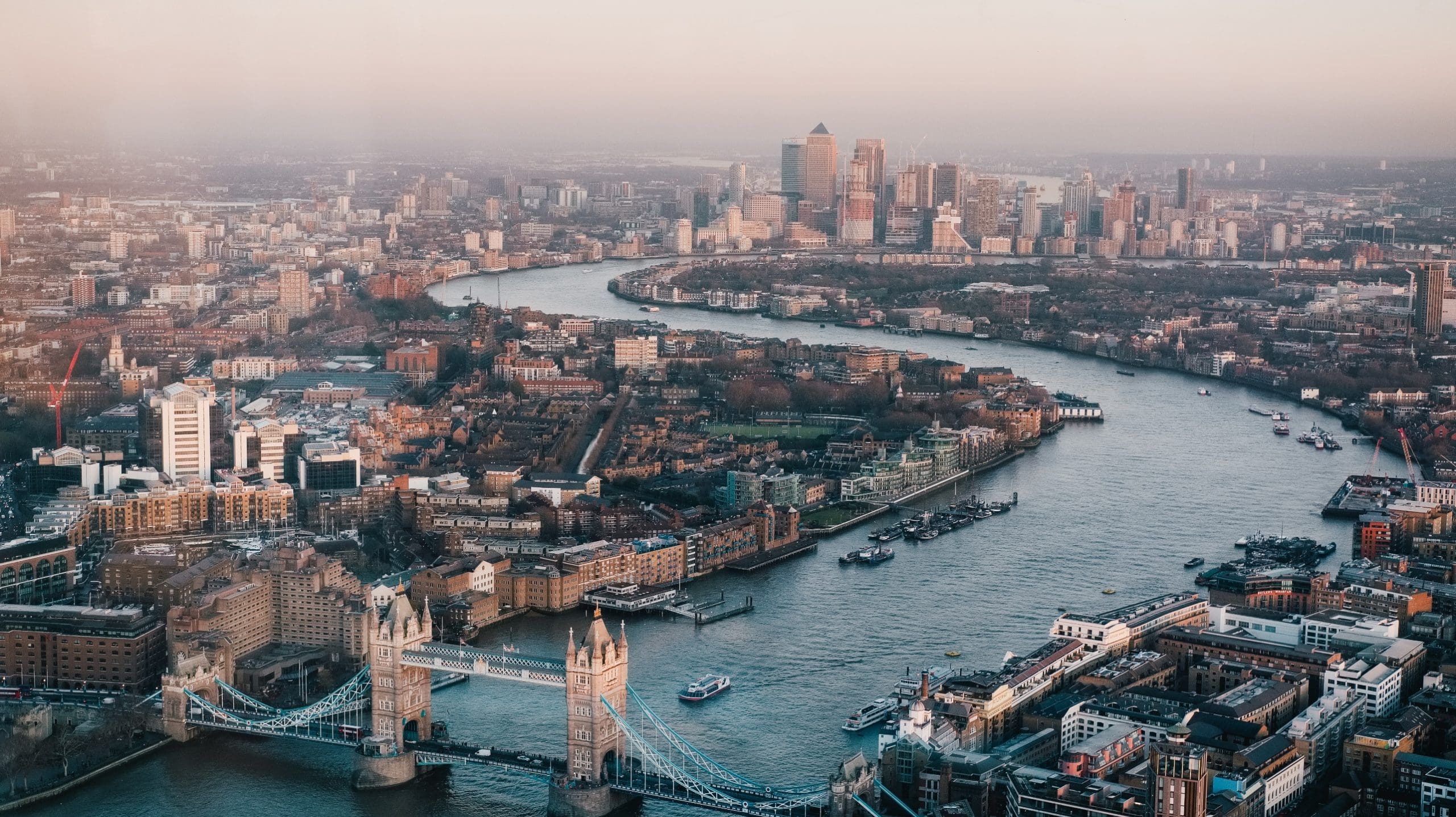 visual identity

e-Commerce website design & build

Bespoke e-Learning LMS dashboard to streamline business processes via API

visual identity

e-Commerce website design & build

Bespoke e-Learning LMS dashboard to streamline business processes via API

visual identity

e-Commerce website design & build

Bespoke e-Learning LMS dashboard to streamline business processes via API

visual identity

e-Commerce website design & build

Bespoke e-Learning LMS dashboard to streamline business processes via API
What we did
visual identity
e-Commerce
Website design & build
bespoke e-Learning LMS dashboard to streamline business processes via API
Introduction
RQC Group (previously Robert Quinn Consulting) is a financial services consultancy, covering the financial compliance systems within the UK and US, a regulatory hosting provider, and an e-Learning course provider, with offices in London and New York.
They provide a plethora of compliance consulting services to a wide range of clients, spanning from hedge funds, family offices, wealth managers, to private equity, private debt firms and more, and their clients build long-term relationships through trust and partnerships.
The consultancy  was founded to give their clients the confidence to fluently understand their regulatory obligations, empowering them to identify regulatory solutions that directly fit the needs of their business.
Their FCA regulatory hosting platform provides financial institutions with the ability to use RQC Group's FCA licence, without having to go through the extensive and costly FCA regulation process.
RQC Group have also developed their own range of e-Learning courses, enabling clients to pass CPD-certified courses, designed directly with their in-house consultants. The OP team were able transform our old dated brand and digital presence into a highly aesthetic and contemporary new identity, inline with our new business goals. They were highly collaborative and conducted in-depth discovery sessions to really understand our business, and what could be improved across our digital touchpoints.
Wayne Merris
Marketing Director
The Problem & Challenge
After being established for 13 years, the firm has built up a great reputation within the financial compliance industry, but as the business has evolved over the years, the brand perception hasn't quite caught up. The brand positioning isn't clear as the firm has started providing additional service offerings. The brand lacks cohesion, with the typography, graphical UI library and logo mark feeling dated and disparate.
The brand positioning, website and company name needed an overhaul in order to match that of the firm's growth aspirations, encompassing a brand with a diverse service offering consisting of multiple pillars. The website lacked integration into their marketing tools, and CRM which caused client leads to potentially slip through the net.
The growing e-Learning business was bottlenecked by the technology in place, as clients were only able to purchase a single course at a time directly on the Docebo Learning Management System (LMS), or via a manual process of liaising with the in-house staff to facilitate the purchase, especially when they need to buy multiple course enrolment for clients staff members. This caused a bottleneck in the process, as sales were limited by staff capacity and weren't able to reach their full potential.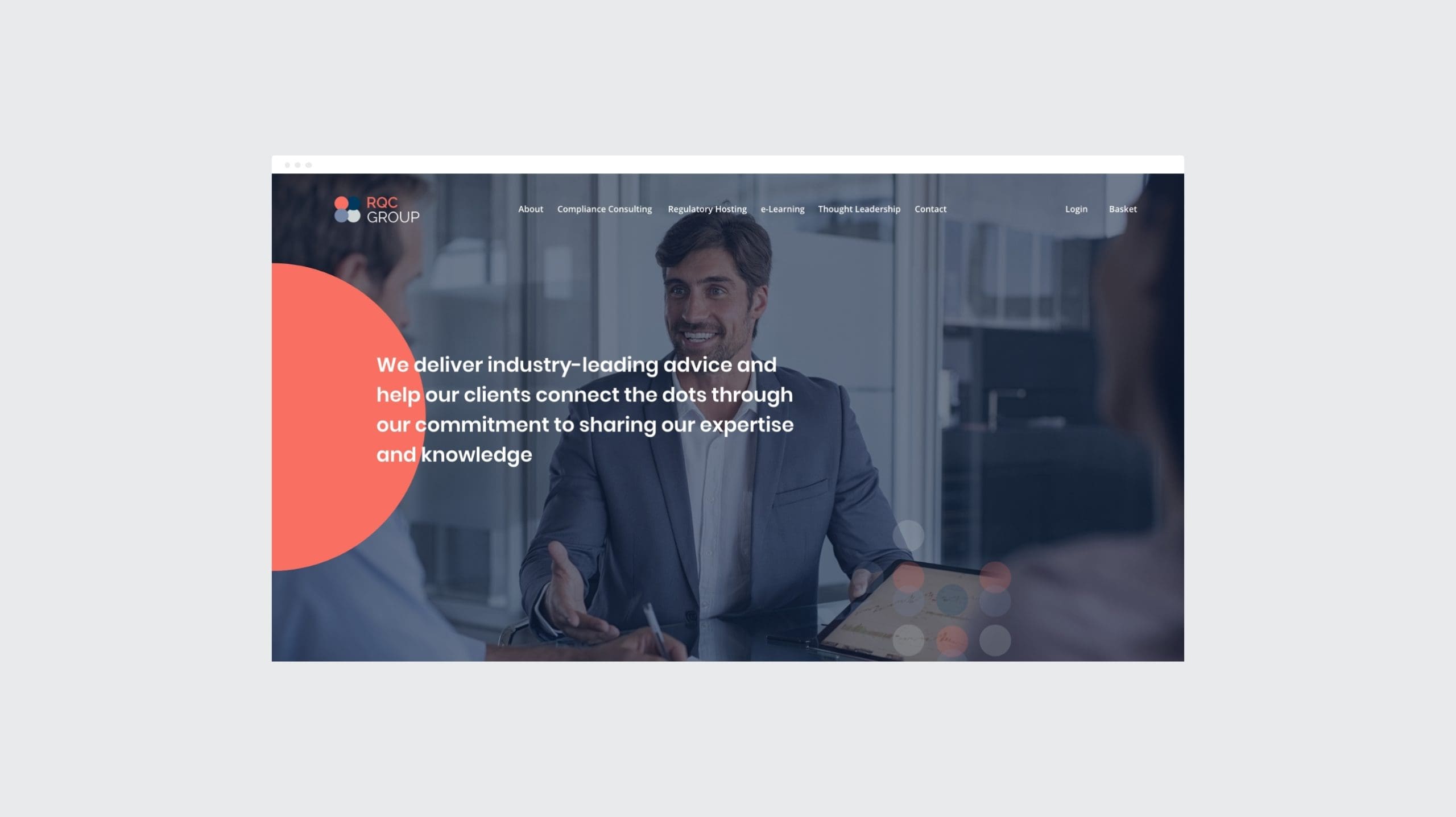 Our Solution
We completed a number of discovery sessions with the team, to truly understand their business, their business goals, who their current and target clientele are, and where they saw themselves over the next 5-10 years. We worked with the stakeholders to re-brand Robert Quinn Consulting to "RQC Group", in order to encompass their key service pillars, whilst allowing scope for future growth. We developed a brand language that enabled us to assign their new core colour palette to each of their core services.
This enabled us to build continuity for their brand, across all of their digital and offline touchpoints. Alongside the key stakeholders, we established that the main reason for starting the business is to help their clients navigate through the complexities of financial regulations. We built out their brand on the concept of a venn diagram, as their service offering consists of 4 key pillars: FCA hosting, UK compliance consulting, US compliance consulting and e-learning. Each key service offering was represented using its own branded colour within overlapping circles, representing their services interconnection, as well as the firm's ability to "connect the dots" for their clients complex financial regulatory requirements.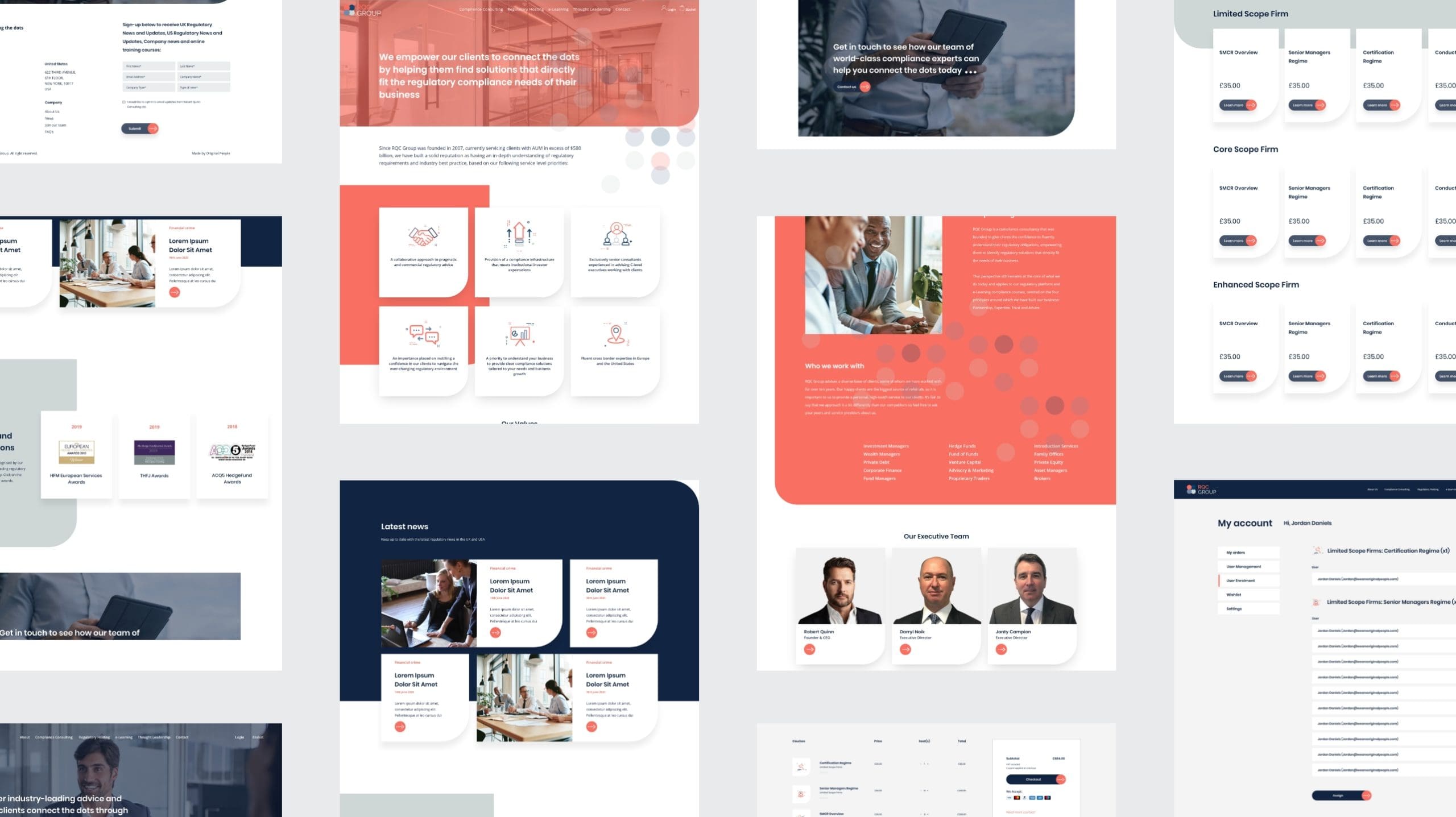 Our Solution
We designed the user experience and user interface for their new digital platform inline with the new visual identity, and developed a range of visual illustrations that provided a integrated brand experience.
We worked closely with the team to build out their e-learning platform and e-commerce experience, consulting on the digital transformation of many cumbersome processes, enhancing business processes and driving efficiencies.
Within the digital transformation process, we guided RQC Group on integrating their CRM system into their digital presence and marketing channels - further refining their day-to-day operations and managing both their inbound and outbound marketing communications.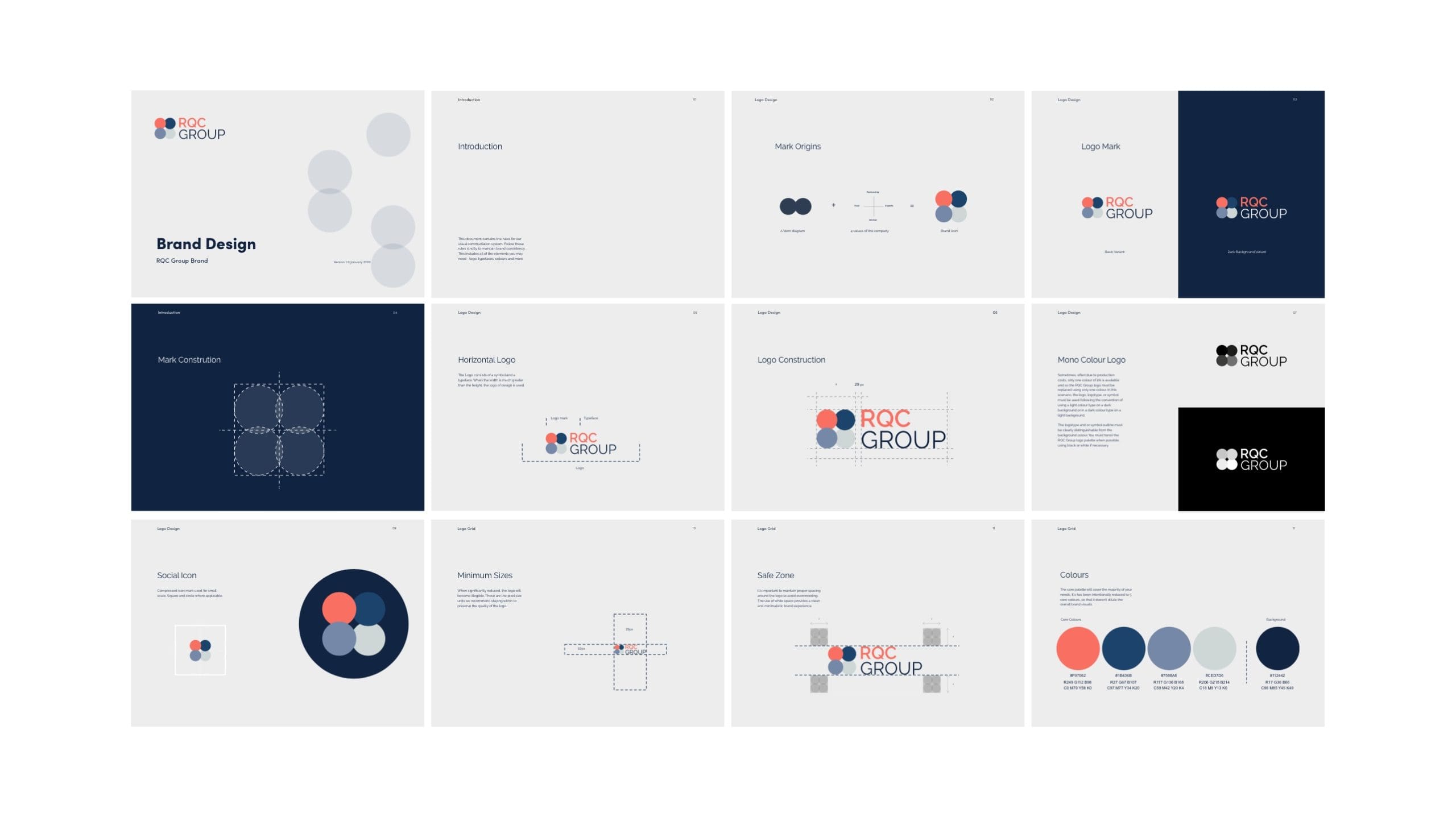 Outcome
The outcome of the project proved to be a great success, with business thriving under the new brand identity and visual representation.
The new design has allowed RQC Group to enhance their brand recognition, stand out from their competition, and implement improved operational processes, across both the United Kingdom and the United States.
The firm's modern design aesthetics have truly accelerated their digital growth, above and beyond their expectations before the project started.