Product design

product strategy

Product development

Product design

product strategy

Product development

Product design

product strategy

Product development

Product design

product strategy

Product development
Client
Cain International
What we did
Digital strategy
Product design
Product development
Introduction
Cain International is a privately held investment firm operating in the United Kingdom, Europe and the United States, who have invested in 20+ major cities globally.
Founded in 2014, in a partnership between Jonathan Goldstein and Eldgridge, the firm invests in real estate debt, equity, and experiential businesses, and currently manages $14.8BN in assets (as of 31 December 2022). They invest in real estate and businesses that shape the fabric of global gateway cities.
As thoughtful investors, they combine an entrepreneurial spirit, deep experience and market knowledge, and collaborate with their clients, partners, and investors to deliver successful outcomes in today's dynamic environment. Original People were able execute our vision with creativity, expertise and enable us to overhaul our digital presence, producing a contemporary and refined platform to expand growth digitally.
Katherine Murray
Director of Communications
The Problem & Challenge
As a growing and innovative property firm with a strong reputation within the industry, Cain International were looking to refresh their digital presence, in order to bring it on par with the magnitude of the ventures that they operate in.
Their website was dated, old fashioned, and not occupying the entire screen real estate on offer. It lacked brand recognition, and brand integration. With a lack of user experience, the user engagement suffered significantly as per their Google Analytics results.
They lacked the ability to display their vast asset and investment portfolio in a clear, concise, detailed and engaging way, and their bespoke content management system limited the art of the possible, and had they had outgrown its capabilities.
With new offices about to open and their global operations expanding, Cain were in need of a digital presence that would stand the test of time, utilising modern web technologies and provide a platform that would allow their future marketing efforts to thrive. They also needed a platform that would allow them to manage their vast quantity of content across all business lines.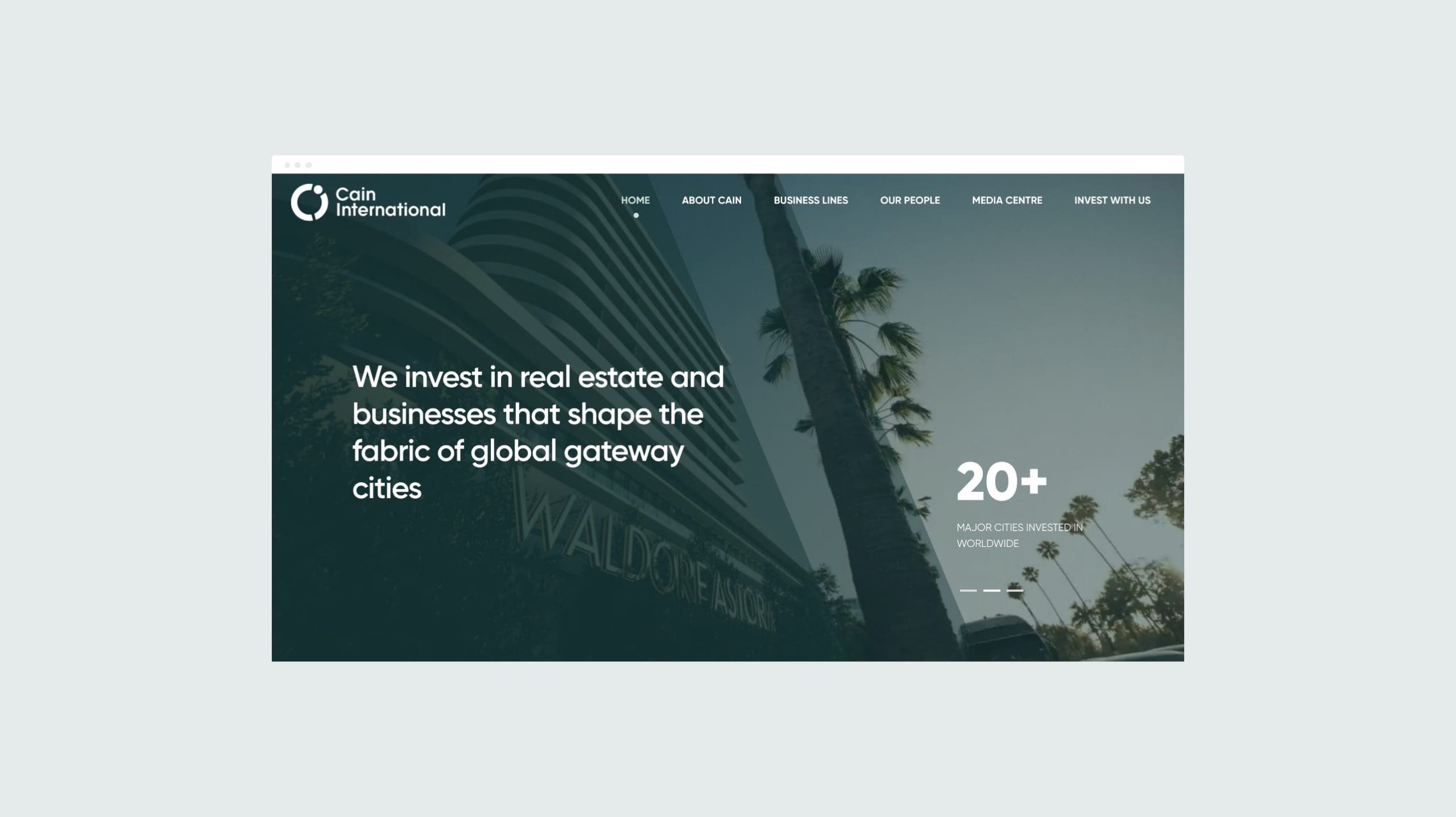 Our Solution
After conducting a number of discovery sessions with the key stakeholders of the business, we captured their vision for Cain's new digital presence by truly understanding the trajectory of the business, the values behind the firm, and how they'd like to be perceived within the industry.
With their CEO, Jonathan Goldstein having a strong media presence and acting as one of the key spokesperson of the business, it was important that he was featured throughout the website.
During the design process, we wanted to accentuate Cain's recognisable branding, so we dissected the logo and integrated CGI's of their investments within the shapes, distributing them throughout the new design.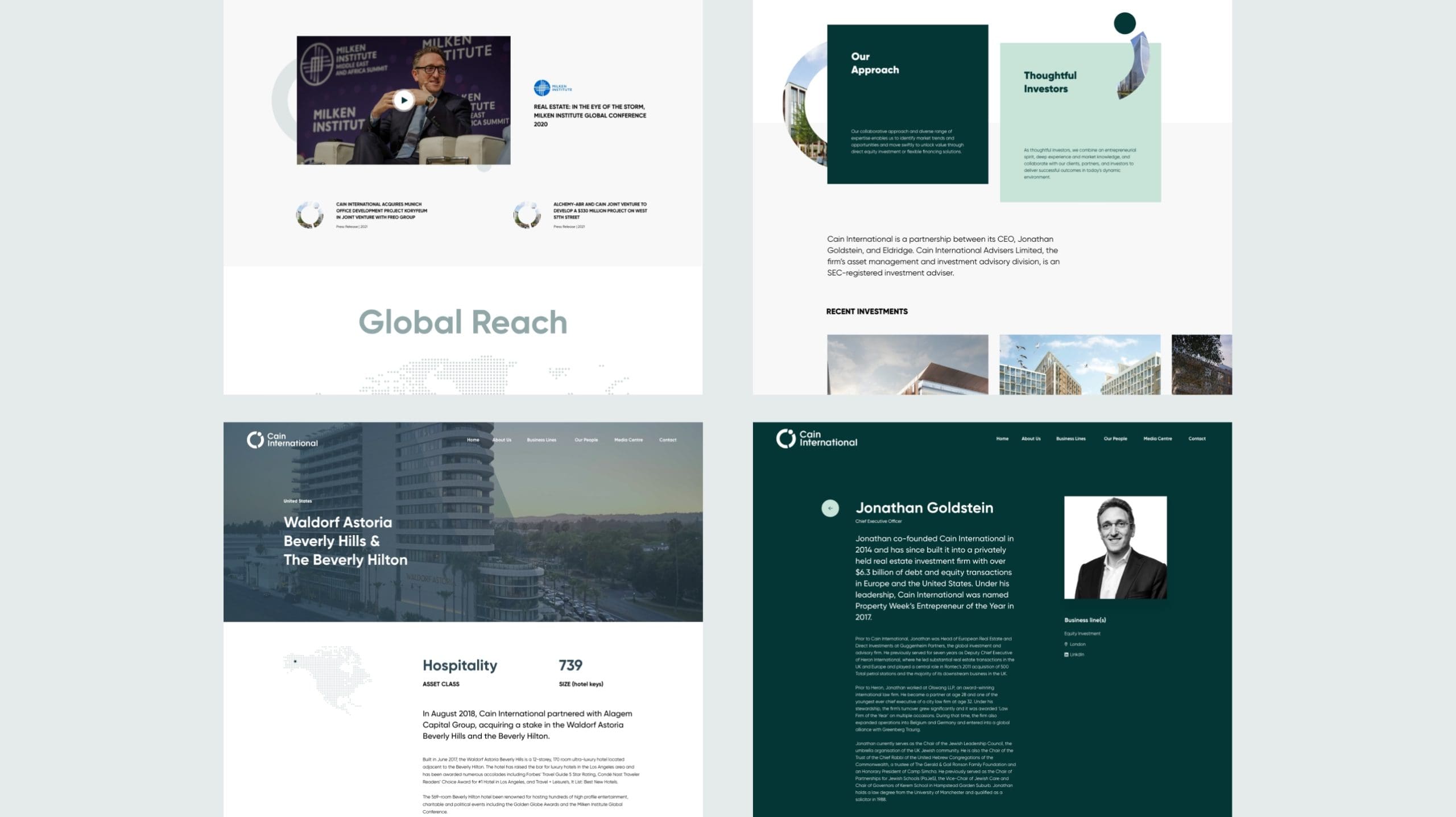 Our Solution
As Cain currently has investments, assets and deals across the globe, we developed an interactive on-brand map, enabling visitors to see their global reach and learn more about each transaction. The map has provided a strong level of interactivity, encouraging visitors to stay on the website for longer periods of time and subsequently reducing the bounce rate.
We re-imagined Cain's typography in order to complement the new design, and introduced Gilroy into their brand guidelines to modernise the overall aesthetics of the new website.
By operating globally, Cain has compiled a plethora of media related content that contains a mixture of content types, from TV appearances, press releases to industry insights composed by the team. The content was disorganised and didn't provide a cohesive experience for viewers to browse the extensive media area. We developed a simplified media system, integrating unique visual elements that represented each type of media, whilst ensuring that the browsing experience is as streamlined as possible. Utilising the strong photography of both their investments and team members enabled us to provide a cohesive brand experience.
By building a tailor-made CMS on top of the basic WordPress architecture has enabled Cain to have full ownership of their content, establishing relationships between content types, whilst maintaining the new design ecosystem.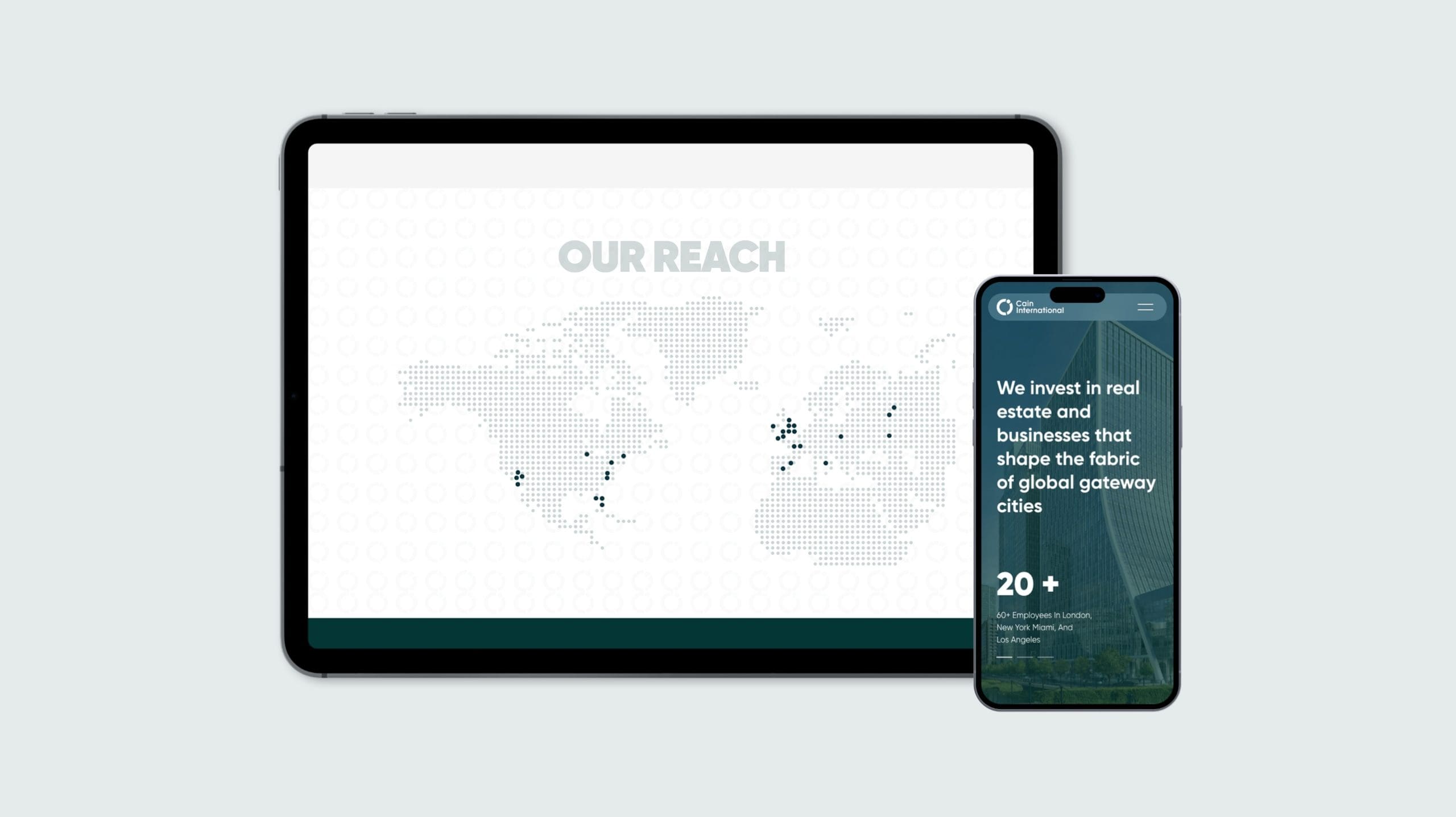 Outcome
Since the new website launched, site engagement has improved by over 69%, whilst the bounce rate has been significantly reduced. There has been an increase in the number of enquiries that have come through the website, especially with regards to new investment opportunities, with the media library and team sections have received a greatly increased number of visitors than before, promoting brand recognition. The new design system has received plaudits within the industry, and the firm are now able to utilise their re-imagined digital presence to complement their extraordinary growth in such a short period of time.